This project is the product of my collaboration with Atmos ,it blends architecture with the design of an experience, both converge in the design of a couple of vessels that have the intention to create a botanic floating micro environment conceived to navigate the canals of London while hosting a diverse range of summer festivals and activities.
The two structures have been designed per separate but they talk the same organic language, written from their roots and branches that grow and draw the structure through their journey and that find shelter in a fresh layer of grass.
The canoe is propelled with an electric engine, that delivers a smooth and pleasant sailing experience while the island, although it is static, it sets up a comfortable space able to allocate among 8 or 10 individuals.
Image courtesy of Atmos
Image courtesy of Atmos
Image courtesy of Atmos
The Floating Forest was one of the main attractions in some festivals that run during the summer of 2011, it hosted a diverse range of activities and events. It was part of the Shoreditch Festival 2011, the Hackney Wick and Hackney Wicked Festival 2011 among other summer celebrations in London.
The Floating Forest was up to be hired by individuals or groups of people, where they could host a wide range of activities from private dinners to music performances and theatrical representations.
Some examples of those events were the shooting of several music videos from emergent british bands like Rhys Lewis and The Relics and the Air Guitar promotional video for the year 2011 in UK.
The Floating Forest has been built mainly using plywood and grass turf, built with the most advanced CNC technologies and designed entirely by computer assistance.
The process was rich and playful,full of implementation stages from where the design was taking shape after wide prototyping and experimentation.
A movie below shows the Pontoon construction process.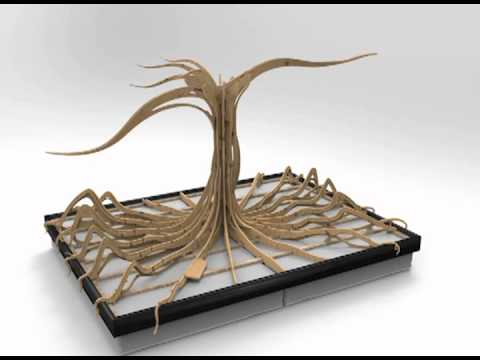 See the PDF's with some design process samples: part 1 , part 2 , part 3 , part 4